Shamanic Healing Tools. Medicine tools, I'm going to use the fans as an example. All my feathers come from birds that have been killed on the side of the roads, found in a bush, or donated by others who have found them.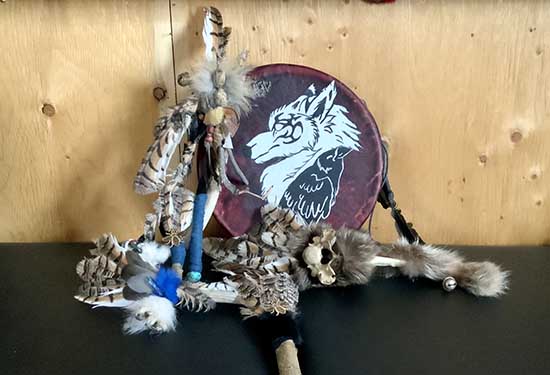 When I first pick up the bird, I bring it home, smudge it, and ask if I can have or share its energy in a medicine tool. Sometimes they say no, and that's perfectly fine. When they do I bundle them up, smudge them and burn them in the ceremonial fire. Honouring their soul, and the life that they shared on this earth with us humans.
If they say yes, then I begin to harvest what I can. I always speak to them and ask them what pieces can I harvest.
Healing tools are used to direct spirits or spiritual energies into the physical world, for healing and other purposes.
Shamanic Healing Medicine Tools
When all the pieces are taken off the bird body, whatever pieces are left I again wrap up, I often lay the bird in a box, or on a bed of Spruce Pine, place it in the ceremonial fire and send those pieces back If I am making fans, I allow the feathers to speak what do they want to be? what shape do they want to be in? will they be used for feather Medicine, ceremony work, grief work, is this piece meant for someone else?
100% Unique Shamanic Healing Tools
After each medicine tool is made, it is blessed with sacred pipe, in a beautiful prayer. Now it's ready to find its new home. Much love and care goes into each piece. So no I don't make crafts, I bring medicine tools to life. I use a combination of, feathers, fur, wood, antlers, bones, crystals, stones. Each piece is 100% unique and will never be copied for anyone else.
Karen Dollmont of Holistic Healing Energy is a Licensed Shamanic Reiki Practitioner and she is extremely passionate about holistic wellness for all and the creation of sacred healing tools. Karen is also known by her medicine name Sacred Plains Woman.
Karen has many certifications to assist you in your healing journey, including Reiki Master with Pet Reiki, Reflexology, Art Therapy, Shamanic Practitioner and Shamanic Coach, and is also well versed in Deathwalker and Death Doula services.